All about Newent and the surrounding area
Attractions Events Shops Food History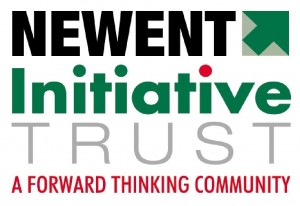 KITCHEN REFURBISHMENT PROJECT @ CHILL OUT BROAD ST. NEWENT
 Newent Initiative Trust is to upgrade the kitchen within its cafe, the ChillOut, and is looking for local tradespeople interested in tendering for this work.  It is a Community Cafe in Broad Street, Newent, which is utilised by a range of local organisations and also hosts a youth club in the evenings.  It is hoped that the kitchen refurbishment project will start early next year. It will involve a wide scope of works and therefore the Trust is looking for experts with a good knowledge of various trades and experience of completing similar projects.
Local tradespeople are invited to submit an expression of interest for the kitchen refurbishment project. The submission should include an outline of similar initiatives undertaken, project management experience and any relevant supplier connections.
If you are interested in being part of this exciting community project, please contact Keith Urch (07885397781) for further information and for the opportunity to visit the cafe.
COMMUNITY/YOUTH WORKER REQUIRED
Chill Out Management Committee seek a Community/Youth Worker to work 2 x 2 ½ hour sessions on Wednesday and Thursday afternoons (3.30pm to 6pm). Other hours may be available to cover sickness and holiday. Pay at £8.50 per hour.   You will need: Experience working with people from all backgrounds including young people and a commitment to the developing needs of the community.    For further information please contact Margaret Highton 01531 820245/ [email protected]    Letter of Application and CV to: Chill Out 36 Broad Street Newent GL18 1AJ.   Closing date for the expressions of interest is: 30/11/2018 via letter or email to [email protected]/ 36 Broad Street Newent GL18 1AJ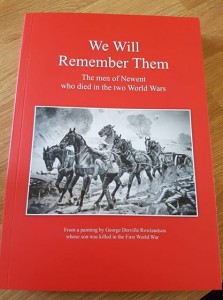 A new book about Newent War Memorial  has been written by members of Newent Local History Society and gives details about the Newent men whose names are inscribed on the memorial as well as those who have been missed off. There are 110 in total.  The book is entitled "We Will Remember Them" and has taken three years to write, and is timed to coincide with the 100th anniversary of the end of World War
Leader of the project and Chairman of the Society, Dood Pearce, said "This has been a mammoth task and has involved research in many regimental museums and archives, newspapers, graveyards and Parish records.  Help has been given by the families, who have found photographs and letters. It will be a useful resource for local and family historians". The memorial is situated at St. Marys Church,  A copy can be obtained from The Good News book shop, Dood Pearce on 01531 821398 or email [email protected]  Details include the families, occupations and service history of each man, as well as their burial place, and medals awarded.  The dead of both World Wars are included. Price £12.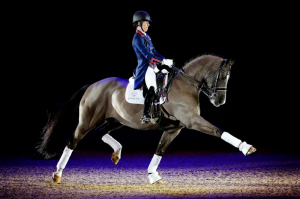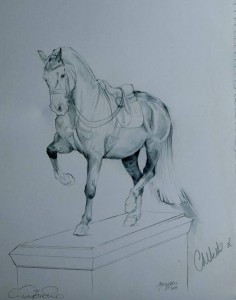 The quest is to have a beautiful statue of Valegro in our town. People can then remember this one in a million horse forever. If anyone would like to support our campaign and make this a reality, please see the link https://www.newentvalegrosculpture.co.uk  or:- https://www.facebook.com/valegrothedancinghorse
 This unique and special horse will have a very special place where he can 'dance' and inspire local people and visitors forever. See Facebook page for updates on the plan to put a statue up of Valegro in Newent, his home town. This horse, Carl Hester and Charlotte du Jardin have done so much for Dressage and particularly for UK Dressage that we really wanted to have a long term thank you and memory of him.
The artist has been chosen, she is Georgie Welch. Preliminary sketches and marquette made - now we are in the serious business of raising the funds to succeed.  Valegro will be portrayed plaited and wearing his tack. but we will follow the artist as the work is done. If you would like to help with this exciting project, please contact us through Facebook  https://www.facebook.com/valegrothedancinghorse
https://www.youtube.com to see the launch of this campaign.
To celebrate every Team GB London Olympic Gold Medals, Royal Mail painted some of its red post boxes gold in the Olympic Gold Medalist's home towns. One can be found in Newent, outside the Post Office in Chuch St. to celebrate Charlotte Dujardin winning Olympic Gold in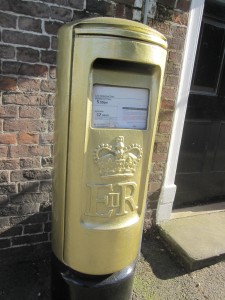 the individual equestrian dressage event on her horse Valegro. She also won a Gold as a member of the team dressage event. Charlotte who lives and trains in Newent also appeared on specially made stamps commemorating the achievements of our gold medal winning Olympians.
Charlotte Dujardin became the second British woman to win three Olympic gold medals by retaining her individual dressage title in Rio 2016 again on Valegro .
Donations can me sent to Newent Initiative Trust,  Alland,  Botloes Green, Newent, Glos, GL18 1DW or contact Newent Initiative Trust - [email protected]